In a Memorable Fall Camp, 10 UA Freshmen and Sophomores Look Ready to Help the Tide Win Another National Championship-Part 2 of 2 (Players 6-10)
My previous article looked at UA's top five freshmen and sophomores that will likely have a big impact this season. In part 2, we will look at five more UA freshmen and sophomores that should be major factors in 2017.
6. Alex Leatherwood
The five-star freshman is in a great position to see playing time after also having a good summer. The 6-foot-6, 322-pound Leatherwood is part of the competition for Alabama's right tackle job. Additionally, Leatherwood and fellow freshman Jedrick Wills have also gotten some reps at guard. As the Alabama coaches often do this time of year, the offensive line is being cross-trained and evaluated at different positions.
During SEC Media Days, Tide Coach Nick Saban listed Leatherwood as one of four players who "could play winning football on the offensive line." After an incredible freshman year, the coaches have been open about the fact that Jonah Williams will be moving to left tackle this year. In fact, it is because the coaches have been consistently vocal about Williams having solidified his starting spot that I decided to leave him off this list. But with Williams moving over to protect Jalen Hurts' blindside, the question is who will step up to start at right tackle.
The answer will likely come down to a battle between Leatherwood the five-star freshman and veteran Matt Womack. Since he arrived on campus, Leatherwood has dropped weight, gained strength and speed, and impressed the coaching staff with his ability to grasp the offense. His size, speed and talent have even evoked comparisons to Alabama and NFL great Cam Robinson. Therefore the competition to find UA's starting right tackle is no doubt one of the most intriguing position battles leading into the season. 
Regardless of how the position battle turns out, Leatherwood is set to have a long, heralded career at Alabama. And it goes without saying that he will be one of the top UA Freshmen and Sophomores this season.
7. Henry Ruggs
Ruggs has already established himself as one of the fastest players on Alabama's team. As such, he could be a factor this year at both wide receiver and as a returner. The freshman was a standout during summer workouts and fall camp. But as noted in the previous article, the depth at receiver is almost as impressive as the Tide's stable of RBs. But Ruggs' speed and football IQ make him a great prospect for playing time on special teams as well. Specifically, Ruggs' speed and ability to elude tacklers makes him a logical addition to the return game.
8. Devonta Smith
Like Ruggs and Jeudy, Smith is in the mix to contribute at receiver as a freshman. At 6-foot-1, 165 pounds, Smith is a natural playmaker with amazing speed. As discussed above, however, the Bama's depth chart at receiver is uncanny. For Smith to see playing time he will have to find a niche. #BamaProblems
9. Jedrick Wills
As noted above, the 6-foot-5, 315-pound freshman is competing for Alabama's right tackle job. The four star recruit has supposedly gotten a lot of work at the first-team right tackle spot. And at 6'5 he may be more suited to play tackle than guard, if the scenario manifests in which Leatherwood plays at one of the guard positions, leaving Wills and Williams as the two tackles.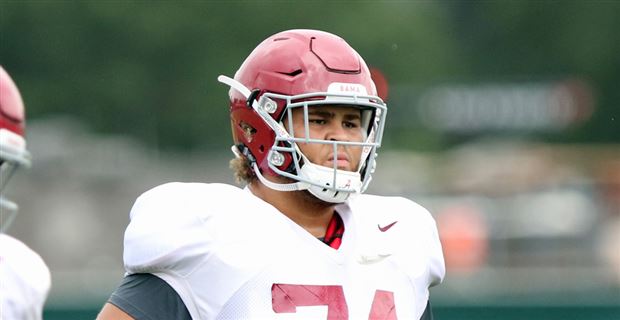 Last year, Mack Wilson had some of the most memorable plays of the season, including a touchdown catch after lining up at fullback. But this year, Wilson will seek to solidify his presence as leader on the defense, as opposed to the special teams and niche player he was last year. All reports show Wilson having dropped weight, gained speed and, most importantly, mastered the playbook during the off-season. If this is indeed the case, Mack Wilson ought to emerge as one of the most important defensive players on the field for the 2017 Tide. That said, letting Williams in to cover the occasional kickoff would could certainly boost team — and fan — morale. The play below was arguably Bama's biggest hit of the year. Moreover it displays  a remarkable likeness to the types of plays Reuben Foster made early in his career at Bama.
Main Photo: