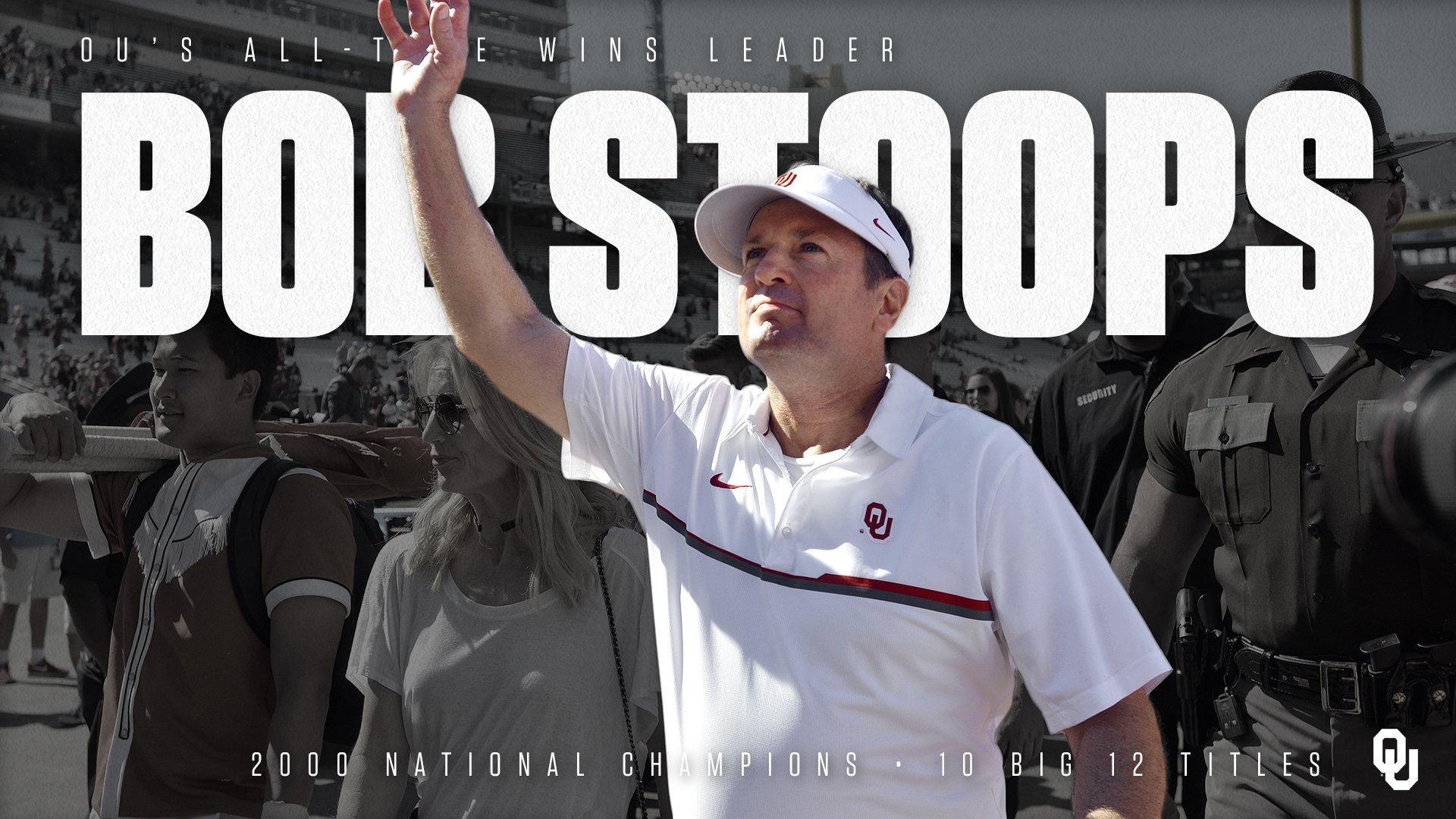 The 2017 Spring Sports for Oklahoma has been an exciting time. The Gymnastics and Softball teams became back-to-back National Champions.  However, Sooner Nation was not prepared for the bombshell that came their way on the afternoon on June 7th.  After 18 years as "Head Ball Coach" at the University of Oklahoma, Bob Stoops announced his retirement effective immediately. Whether you are friend or foe to the Sooners program, Bob Stoops' legacy is undeniable.
Stoops' path to Oklahoma
Before accepting the head coaching job at Oklahoma, Stoops held various assistant-coach positions at Iowa, Kent State, Kansas State and Florida. Beginning in 1983, the illustrious career of Robert Anthony Stoops began as a graduate assistant under legendary coach Hayden Fry. Stoops' tutelage under Fry would last until 1987. He was an assistant at Kent State University under Dick Crum in 1988.
Finally, in 1991, Stoops received the first coordinator position of his career.  Bill Snyder, who also coached under Fry, named Stoops the Co-Defensive coordinator at Kansas State. At the time, Kansas State was considered one of the worst programs in Division 1-A. Kansas State was winless in 1987 and 1988 and was the losingest program in Division 1-A/FBS history at the time. Stoops played a key role in their impressive turnaround to national contention. During his final four seasons there, Kansas State was 35–12 with three bowl appearances.
Next, Stoops continued his coaching career at the University of Florida. He was hired after Nebraska scored 62 points on the Gators in the 1996 Fiesta Bowl.  After guiding the Florida defense in 1997, the Gators won the National Championship over Florida State. His time at Florida ultimately catapulted Stoops into one the hottest coaching commodities in the country.
Sooners return to prominence
The 1990s decade was the worst era in Oklahoma Sooner history.  Between 1990 and 1998, the Sooners had three head coaches. Oklahoma had not finished above .500 since 1993. Enter Bob Stoops in 1999. Stoops laid the foundation early for embracing those lofty expectations at the University of Oklahoma. The Sooners were able to secure a 7-5 record in year number one and optimism was high in Sooner Country.
In only his second year as head coach, Stoops led the Sooners to the 2000 BCS National Championship. Although Oklahoma was not able to obtain another National Championship, Stoops' teams were always well coached. Under Bob Stoops, Oklahoma had four Bowl Championship Series National Championship Game appearances.
Stoops' knack for winning the big games early in his career earned him the nickname, "Big Game Bob." From 1999 to 2003, Oklahoma was 18–2 against ranked opponents. He was also 3–1  in bowl games, with one national title and three Big 12 titles. In his tenure, Stoops had a combined record of 190–48. On November 16, 2013, he tied Barry Switzer for the most wins by a coach at Oklahoma. The legacy and legendary status that Bob Stoops has set the bar for is going to be a significant challenge going forward.
Record Breaking Numbers
From 1990 to 2016, not only was Bob Stoops the winningest coach in Oklahoma football history, he also had more wins than any other active power five program coach.  He is also the only coach to win every BCS game in his career.  The Sooners have won 10 Big 12 championships in his time in Norman, while no other coach has won two. One of the most eye-popping stats is the fact that as head coach Bob Stoops has won more conference championships (10) than he has home losses (8) in 18 years.
The New Blood: Lincoln Riley
After playing his college ball at Texas Tech, Lincoln Riley began his coaching career with the Red Raiders. Riley was a student assistant and a wide receivers coach in Lubbock for seven years. Lincoln went on to serve five seasons as offensive coordinator at East Carolina University under Ruffin McNeill.
Riley was hired by Bob Stoops on January 12, 2015 to kick-start the Oklahoma offense that had been lacking an identity. He would be replacing Josh Heupel as the Oklahoma Sooners' offensive coordinator. In his first season guiding the Sooner air-raid attack, the Sooners ranked 7th nationally in offense and earned a berth in the College Football Playoff. He also won the Broyles Award, awarded to the nation's top assistant coach.
Analysis And Future
Most inside the Sooner football program considered the retirement to be something that was inevitable. Bob Stoops has been adamant that he was not interested in coaching into his 60s, but there was very little indication that he would pull the trigger this soon. Being the head coach at the University of Oklahoma is a very risk versus reward position. With no other major sports teams in the state until the arrival of the Oklahoma City Thunder in 2008, Oklahoma football is heartbeat of the state of Oklahoma.  More times than not, Bob Stoops was at the pinnacle of that proverbial mountain. So to say that he leaves huge shoes to fill is a massive understatement.
Lincoln Riley has one of, if not the biggest, opportunities in front of him in 2017. This season could be viewed as an audition of sorts for Riley. Something catastrophic would have to occur for him not to continue in that role in 2018, but the pressure is still there. In the 1980s, Barry Switzer once compared the Sooner football program in terms of "feeding the monster." When you are producing wins, championships, and All-Americans this feeds the monster and it stays content. Now, once the wins, championships, and regrettable on-field performances start to dwindle that monster gets angry and restless. Riley has an enormous amount of pressure ahead of him, but rest assured Sooner Nation will be right there for the exhilarating ride in 2017.
Main Photo: